The Perfect Plants for a Micro Garden
If you're someone who finds yourself in an urban area where growing a garden full of fresh, organic greens, vegetables, and herbs is a challenge, micro gardening may be just the thing for you! Micro gardening makes it possible for city and urban dwellers to grow and eat organic fresh greens from their garden – and it's easier than you think to get started. In this article, I've collected all the information you need on what plants to grow in your micro garden, how to get started, tips to maintain your micro garden, and the benefits you can expect from having your micro garden. Keep reading to find out more!
Whether you find yourself wanting to grow your food or you need to save some money or you're just interested in starting a garden, here are 9 plants perfect for a micro garden:
Mustard
Peas
Spinach
Basil
Kale
Lettuce
Watercress
Arugula
Radish
Micro gardening is fun, low-maintenance, and produces great, healthy, and high-energy foods that you can feel good about eating. Let's dive into what constitutes a micro garden, how to get started on yours, and which plants are perfect for your micro garden.
What Is a Micro Garden?
Micro gardens are different from miniature gardens. Miniature gardens are small, landscaped gardens that are maintained in containers or small terrariums and made of small plants that are less likely to be sources of food. Micro gardens are made up of a variety of edible seedlings, vegetables, or herbs and can be cultivated year-round – both indoors and outdoors. They can also be harvested in about 10-14 days.
Growing a micro garden is easier than you'd expect and is great for city and apartment-dwellers where all you need is a terrace or balcony, or even a windowsill. Greens are easy to nurture and make your apartment smell great! Micro gardens are typically made up of superfoods that are great sources of antioxidants, vitamins, and minerals.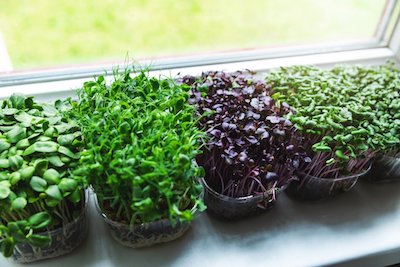 How to Start Your Micro Garden
Don't have much experience gardening? Not a problem. Micro gardens don't require much equipment, experience, or time to maintain. Getting started on your micro garden is as easy as obtaining good quality seeds, and containers, and having proper lighting.
Go to your nearest home and garden store and purchase containers that will fit wherever you plan to put your micro garden – ideally somewhere with access to good sunlight. Once you have the containers, it's time for the fun stuff. The only things left to get are the seeds, soil, and a spray bottle for watering.
If you don't know where to purchase quality seeds, consult home and garden professional. You won't need many to get started so it won't be very expensive. When you look for the soil you need, it is recommended to go with a potting mix rather than garden soil.
Once you have everything you need, time to plant! Start by soaking the seeds overnight. Then place the seeds evenly apart in the soil, with a thin layer of soil over top. Make sure the seeds stay moist but don't overwater. After the seeds start to sprout, spray water directly onto the soil at the bottom of the plant and place them in direct sunlight. Let them grow for about 10-14 days, or when seedlings are about 2 inches tall and then cut with just a pair of scissors. After your first "harvest" you'll be good to go!
9 Plants Perfect for a Micro Garden
1. Mustard
Mustard microgreens are very distinctive in flavor and are packed with vitamins A and C, making them extremely nutrient dense. They are easy to maintain once planted and continue to produce new leaves – so you simply clip off the leaves you're going to use and in the next few days, more will be available. You can use mustard greens in a broth, they can also be boiled, steamed, stir-fried, or used in a salad.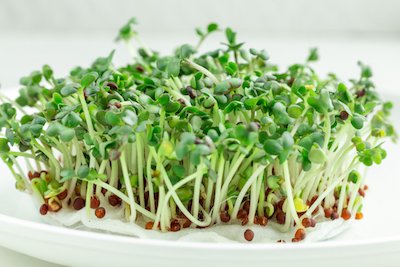 2. Peas
Pea microgreens are fresh and juicy, and they taste so good they are often eaten on their own. High in fiber, protein, and iron, you will certainly gain great benefits from growing and eating peas from your micro garden. Harvesting dates vary for peas but you can easily sample a fresh pea for a few days to determine the right harvest time. You'll know it's time when the pea pods are swollen and the inner seed is slightly larger than the seed you originally planted.
3. Spinach
Spinach microgreens pack a flavorful punch so just remember a little goes a long way. With a variety of ways to use and eat spinach, it's a great plant to start with. Sowing successively allows you to enjoy spinach over a longer period and harvesting is largely up to your preference. You can choose to harvest smaller leaves or wait until they get a little bigger; you also don't have to harvest the whole plant. With this plant it's important to know that it doesn't last long after harvesting, so harvest enough for what you need and let it continue to grow until the next need.
4. Basil
Basil is a great microgreen that you can add to nearly any meal and have a great taste. Though it is a slower growing plant for harvesting, it will still give you something within 15 days and is chock full of nutrients including vitamins A, B6, C, E, and K and several minerals such as calcium, phosphorus, iron, zinc, and more.
5. Kale
Kale is an easy and rewarding microgreen for your micro garden. It is long-lived and low-maintenance, perfect for your micro garden that adds nutrition and strong flavor to any meal. For baby kale, you can plant several seeds about an inch apart and not very deep into the soil; with less sun needed than other microgreens, you'll produce what you need with very little maintenance required.
6. Lettuce
Lettuce in your micro garden allows you to have a little fun with lots of variety. You can grow a blend of your favorite lettuces that produce a variety of colors, flavors, and textures for whatever you have in mind. Plant lettuce successively for multiple harvests and you'll have lettuce whenever you need it.
7. Watercress
Watercress is the nutritional microgreen you'll be proud to produce – even more so than Kale. With its distinctive peppery flavor, you'll be adding watercress to everything you eat. When it's time to harvest, simply clip off the leaves you need and let them continue to grow. Watercress is a beautiful plant for your micro garden as you can simply place it in a bowl with some rocks or pebbles, filled with mineral water, and watch it grow.
8. Arugula
Arugula is another microgreen that goes well with whatever meal, it produces a harvest in as little as 10 days. Depending on the flavor you want, you can harvest at different times. From zesty and nutty, to slightly bitter or spicy, you can't go wrong with growing arugula in your micro garden. Once the leaves reach about 2 inches in height, it's ready for harvest and can be added to just about anything for a great flavor kick!
9. Radish
Radish is one of the fastest-growing microgreens and is ready to harvest in as little as 6 days. With a crisp, spicy flavor, radish is full of vitamin E and adds a punch to any meal. Radish will produce a little bit of color to your micro garden and requires little maintenance for a great harvest.
Benefits of Micro Gardening
No matter where you are, starting a micro garden has some great benefits. It doesn't require heavy labor or expensive equipment and materials. And, if you think yourself to not have much of a green thumb, they are cheap and easy to establish and maintain. Not to mention, the self-sufficient factor of having a micro garden is extremely satisfying for the minimal amount of effort that goes into growing one.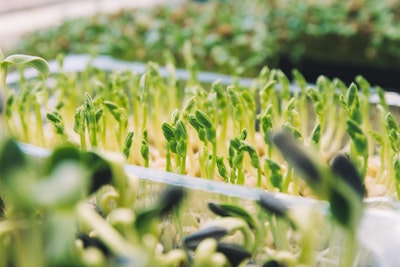 Tips for Maintaining Your Micro Garden
While we've talked about a list of plants that are perfect for micro gardening, be sure to pick ones that you know you enjoy and will use. Once you pick out the perfect mix, follow some of these tips to help you maintain your micro garden:
Preparation is key to producing a great harvest
Water/soak seeds before planting
Plant seeds at the right level in the soil; typically no more than 2 inches deep
Evenly space seeds when planting
Use a spray bottle to water, this ensures you don't overwater
When watering, spray directly onto the soil to prevent fungal growth
Keep plants in an airy space with ample access to sunlight
Watch your plants and try them out when you think they are getting close to harvest time
Most microgreens can be cut and keep growing, just be careful not to disturb the roots
Check ideal growing conditions for each of your plants in case of nitrogen, microorganisms, or other additives are needed to help increase growth
Growing a micro garden is fun, inexpensive, and easy to maintain. Now that you know what plants to grow, how to get started, and how to maintain it all – go plant your own and reap the benefits of nutrition and self-satisfaction.