How to Create a Beautiful Non-Traditional Bouquet for Valentine's Day
Valentine's Day is a special holiday for just about everybody. Whether you are trying to romantically display your love to a spouse or significant other or even just show your children how much you love them, bouquets are a go-to gift. Flowers have healing properties, they have a special way of making everyone feel special, loved, and thought of and a good bouquet is a perfect accent to any room. So, how to create a beautiful non-traditional bouquet for Valentine's Day?
The way how to create a beautiful bouquet for Valentine's Day is to choose bright colors, add unexpected items, choose unique containers, shop in unexpected places, and make it meaningful. Then to actually create and assemble it, you need to create a base, choose a center, secure the flowers, and finally accentuate the bouquet.
However, this is just barely skimming the surface! To learn everything about creating a beautiful non-traditional bouquet for Valentine's Day, keep reading!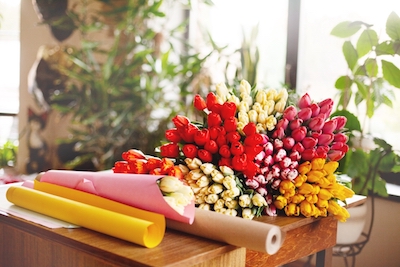 Steps to Make a Beautiful Non-Traditional Bouquet for Valentine's Day
You can make a fun, unique bouquet for Valentine's Day that will show your special someone how much you care. Non-traditional bouquets are a great way to express yourself and create something memorable. Here are some tips to get you started on creating the perfect non-traditional bouquet for your sweetheart:
1. Choose Bright Colors
Instead of opting for traditional red roses or pastel pinks, choose bright and vibrant hues such as yellow, orange, and purple. You can mix and match different shades to create an eye-catching display.
2. Add Unexpected Items
Flowers aren't the only thing that can be used in a bouquet! Why not add candy, balloons, love notes, Bible verses, or a stuffed animal?
3. Choose unusual containers
Instead of using a plain vase or basket, choose something more unique like an old teapot, bucket, or hat box.
4. Shop In Unexpected Places
Look beyond the flower shop and search for interesting items to add to your bouquet at flea markets, vintage shops, and craft stores.
5. Make the Bouquet Meaningful
Whether you're a crafter or not, creating something handmade is always special because it shows how much thought you put into it. Consider adding some homemade embellishments such as paper hearts, origami figures, or even macramé tassels! Include photos or keepsakes of the two of you together in the bouquet to add a personal touch. This could be anything from polaroid pictures, ticket stubs, old letters—anything that has a special meaning to both of you. 
We all know that actually putting together flowers tends to be the hardest part, so next, we are going to walk you through physically putting together your bouquet.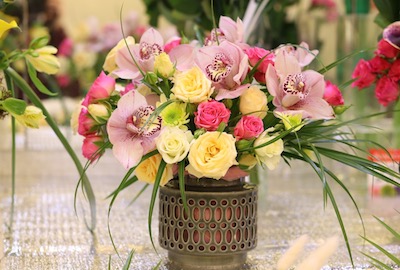 Assembling Your Bouquet
Now that you have all of your items gathered you might be wondering how to actually assemble a bouquet. Assembling your base can be done in 4 easy steps. 
Create a Base 
Choose a Center 
Secure the Flowers 
Accentuate the Bouquet
1. Create a Base
Once you have everything you need the first thing you need to do is create a base for your bouquet. After you gather all your materials it is a good idea to lay them all out so you have a visual of everything you have, then start by creating a base for your arrangement using greenery or foliage. Pick out a few stems of greenery and begin arranging them in the vase. You can add additional stems as needed to give the bouquet an even bottom layer.
2. Choose a Center
Next, choose a flower for the center of your bouquet. This will be the focal point of your design, so pick something that stands out from the rest. If you have multiple flowers with different colors, try combining them in interesting ways.
After adding the main flower, start adding other complimentary flowers around it until you fill the vase. Be sure to keep a bit of greenery between each flower stem so that the arrangement looks natural and full. Once you have your bouquet arranged, take a step back and make sure it looks balanced before moving on to the next step. 
3. Secure the Flowers
Now that you have your bouquet arranged, it's time to secure the flowers and greenery in place. Using florist wire or tape, wrap each stem individually near the bottom of the flower. This will help keep them from moving around too much when it comes time to transport them. If you are using a tall vase, consider adding a foam block inside to hold the stems in place and allow for easier arranging. Once all your flowers are securely fastened, it's finally time to move on to step 4.
4. Accentuate the Bouquet
To give your arrangement its final touch, add some accent pieces such as ribbons, beads, or feathers. You can use these items to tie the colors in the bouquet together or add some extra flair to your design. Be creative and have fun – you can also sprinkle petals or flower heads around the arrangement for an extra special look.
When your bouquet is finished, all that's left to do is give it a final check to make sure everything looks perfect. 
How Long Does a Bouquet Last?
The typical lifespan of a bouquet will depend on the type of flowers and plants used. For example, cut roses in particular can last anywhere from a few days to two weeks when stored properly. However, other popular types of bouquets such as daisies and chrysanthemums may not last quite as long, usually lasting around seven days at most. To ensure that your bouquet stays fresh for longer, it is important to give them plenty of water and keep them away from direct sunlight or heat sources. Additionally, some florists offer special treatments for their flower arrangements which can help extend their life expectancy by several days. Therefore, with proper care and handling, you can enjoy your beautiful bouquet for much longer than expected.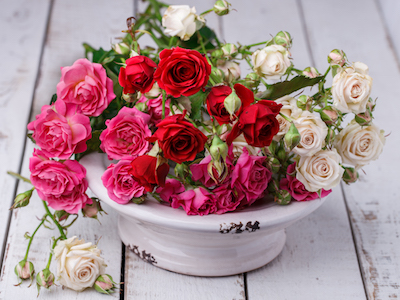 How to Keep Your Bouquet Alive
To keep your bouquet alive for as long as possible, be sure to follow some basic steps. 
First, start by cutting the ends of the stems at a 45-degree angle with sharp scissors or a knife. This gives the stems more surface area to draw in water and will help them stay hydrated for longer.
Second, make sure that you always change out the water in your vase every two to three days. Add fresh lukewarm water and add flower food if desired. Flower food helps promote growth and can extend the life of your flowers significantly. 
Third, place your bouquet away from direct sunlight as well as any sources of heat like radiators or air vents so it does not dry out quickly due to extreme temperatures. Keep your flowers where the temperature is cool and draft-free. 
Finally, mist your bouquet with lukewarm water every other day to give them a bit of extra hydration that can help keep them looking fresh. Following these steps should ensure that your flowers stay alive for as long as possible!
You may also choose to re-cut the stems of your bouquet once a week and place them in a warm bath of lukewarm water for about fifteen minutes so they can absorb more nutrients. Doing this will refresh the blooms and help extend their lifespan even further. With proper care, you can enjoy your beautiful bouquet for much longer.
Related Questions
How many flowers qualify as a bouquet?
A bouquet is typically made with a collection of at least three or more flowers, but this number can vary depending on the size and type of flowers used. For example, a traditional rose bouquet may contain just three roses, while a larger bouquet might have nine or more. Additionally, different flower types may require fewer stems for an aesthetically pleasing arrangement; for instance, if you're making a bouquet out of peonies you'd likely only need two or three stems to make it look full and lush. Ultimately, there is no definitive answer as to how many flowers go into a bouquet; it all depends on the specific combination of blooms that you choose!
Should you use freshly picked flowers for a bouquet?
Fresh-picked flowers can make for a truly wonderful bouquet. They're at their peak, boasting vibrant colors and full bloom. The sweet scent of the flower is unparalleled to any other kind—and so is its beauty. However, there are some things to consider before choosing fresh flowers for your bouquet. Freshness might be fleeting: you have such a small window of time after picking the flowers in which they will look and smell their best. If too much time passes between picking and arranging the bouquet, it won't look as beautiful or fragrant as when you first encountered them. All that being said, if you have access to freshly picked flowers, they can make for a truly stunning bouquet. Just be aware of their fleeting beauty and ensure that you have the knowledge, patience, and time necessary to create something special!